Effects of alcohol intoxication on decision conflict as a function of the COMT Val158Met genotype
Our research focuses on the spatio-temporal characteristics underlying cognitive and executive functions in general, and as they pertain to alcohol effects. The synergistic approach based on integration of different brain imaging techniques is especially well-suited for obtaining highly precise insight into on-line dynamics of these processes, with an emphasis on location and sequence of alcohol-related impairments.
Our work, along with other evidence, shows that alcohol intoxication impairs decision making. When preferred or automatic responses must be overridden in lieu of a different response, alcohol interferes with this goal-directed behavior, and results in impaired self-control. Consequences of impaired self-control may be the inability to stop oneself from drinking. Our studies employ a battery of tasks which require participants to engage their cognitive control while we collect neuroimaging data, which is also integrated with personality measures and genetics.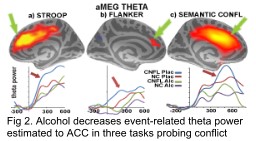 Decision conflict in ACC
Acute alcohol intoxication particularly affects a region of the brain known as the anterior cingular cortex (ACC; noted by green arrow in Fig1), which is thought to perform conflict monitoring and decision making functions. We have found that power in theta and beta frequency bands are both reduced under alcohol, and theta power is increased under greater cognitive load; the ACC is particularly affected by alcohol under cognitive load.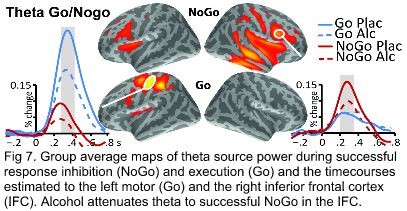 Response Inhibition: Prefrontal Cortex
In contrast, response inhibition and action cancellation engage a partially different neurofunctional system. It is right-lateralized and it includes inferior frontal cortex and supplementary motor cortex. In tasks such as Go/NoGo which require response inhibition, successfully withholding a prepotent response elicits theta power in a strongly right-lateralized network. Alcohol is also found to reduce theta in these regions during response inhibition.
COMT gene and dopamine availability
We are currently investigating differences in dopamine availability, referenced by participants' genotype for the COMT gene. This polymorphic gene codes for the amount of COMT enzyme is produced, which breaks down dopamine in the synapse. By comparing participants who are homozygous for either the Met or Val allele, we hope to elucidate how the amount of dopamine availability affects one's response to alcohol during these tasks and during rest.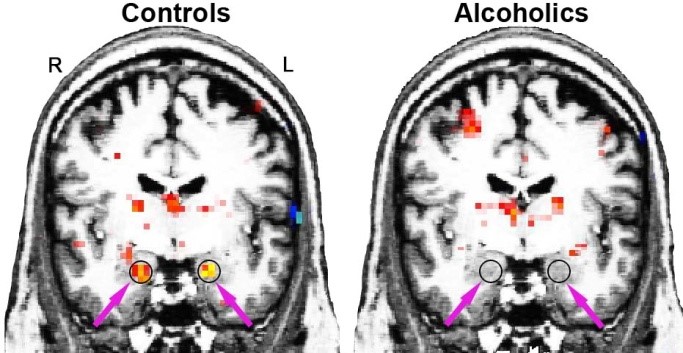 Alcohol Use Disorder
Studies of abstinent alcoholic individuals have indicated that excessive, chronic drinking can lead to brain damage on multiple levels, including atrophy and white-matter damage. The neuroimaging evidence from our research suggests that deficient activation of limbic structures inside the temporal lobes may underlie emotional abnormalities in abstinent long-term alcoholics including difficulties in accurate perception of emotional expressions. Misreading facial cues can escalate interpersonal conflict, creating liability for impaired social interaction and continued drinking. Future studies will determine to what degree these problems are the result of neural changes due to excessive alcohol consumption, or whether they precede the onset of alcoholism.
If you are interested in participating in a study, please contact lwagner@mail.sdsu.edu (see the contact page for more info).
---

Related Publications
Rosen, Burke Q., Padovan, Nevena, and Marinkovic, Ksenija. "Alcohol Hits You When It Is Hard: Intoxication, Task Difficulty, and Theta Brain Oscillations." Alcoholism-Clinical and Experimental Research 40, no. 4 (Apr 2016): 743-52.
Rosen, Burke Q., Ryan O'Hara, Sanja Kovacevic, Andrew Schulman, Nevena Padovan, and Ksenija Marinkovic. "Oscillatory Spatial Profile of Alcohol's Effects on the Resting State: Anatomically-Constrained MEG." Alcohol 48, no. 2 (Mar 2014): 89-97.
Kovacevic, Sanja, Sheeva Azma, Andrei Irimia, Jason Sherfey, Eric Halgren, and Ksenija Marinkovic. "Theta Oscillations Are Sensitive to Both Early and Late Conflict Processing Stages: Effects of Alcohol Intoxication." PLOS One 7, no. 8 (Aug 2012).
Marinkovic, Ksenija, Elizabeth Rickenbacher, Sheeva Azma, and Elinor Artsy. "Acute Alcohol Intoxication Impairs Top-Down Regulation of Stroop Incongruity as Revealed by Blood Oxygen Level-Dependent Functional Magnetic Resonance Imaging." Human Brain Mapping 33, no. 2 (Feb 2012): 319-33.
Marinkovic, K., S. Azma, S. Kovacevic, E. Rickenbacher, J. Sherfey, A. Dale, and E. Halgren. "When the Executive Gets Drunk: Effects of Acute Intoxication on Cognitive Neurodynamics." Alcoholism-Clinical and Experimental Research 35, no. 6 (Jun 2011): 283A-83A.
Marinkovic, K., E. Rickenbacher, E. Artsy, and S. Azma. "Effects of Alcohol Intoxication on Saccadic Control: An fMRI Study." Alcoholism-Clinical and Experimental Research 33, no. 6 (Jun 2009): 88A-88A.